Click Tv
Holi has a Muslim history as well. Revered Sufi saints like Hazrat Nizamuddin Aulia and Ameer Khusro have, in their chaste Persian and Hindvi poetry, adored the 'pink' festival generously.
The last Moghul Emperor, Bahadur Shah Zafar, allowed his Hindu ministers to smear his forehead with gulal on Holi. He believed that his religion would not be affected by this social ritual.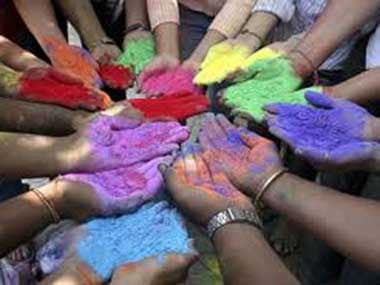 This enlightened spirit percolated among the Moghuls, right from the time of Emperor Akbar.
Jahangir has been shown holding Mehfil-e-Holi in `Tuzk-e-Jahangiri'. Many artists, specially Govardhan and Rasik, have shown Jahangir playing Holi with Noorjahan, his wife.
Mohammed Shah Rangila is shown running around the palace, his wife chasing him with a 'pichkari'. During Shahjahan's rule in Delhi, Holi was known as Id-e-Gulabi — Pink Id — or Aab-e-Pashi — Shower of Colourful flowers.
Holi symbolises the commencement of a new year with a rabi harvest along with nice weather and refreshing air. The Umarahs, the Rajahs and the Nawabs all exchanged rose water bottles and sprinkled it on each other amid the frenzied drumming of the 'nagaras'.
More colour to Holi is added as it falls near the Muslim festival of Id-ul-Fitr.
Who says Holi is a Hindu festival, asks Munshi Zakaullah in his book "Tarikh-e-Hindustani".
"Jam-e-Jahanuma", an Urdu daily, said in 1844 that during the days of the Moghul Emperor Bahadur Shah Zafar, special arrangements were made for Holi festivities.
The major part of this ceremony used to be the sprinkling of yellow colour, prepared from Tesu ke Phool — flowers producing yellow dye — squirted with the help of syringes of various forms and kinds made of metal, glass and wood.
There also used to be the snowballing of red and yellow colour even on the king.
"Tehzib-ul-Akhlaq" mentions in 1855 how the king got his forehead smeared with colour.
A real colour riot used to be witnessed when dancing girls, bedecked with jewellery, used to go past the ramparts of the Red Fort, the veiled princesses ecstatic at the sight of the libertinism of Holi songs and the classical dance.
Most Holi songs were sung in the havelis and the lobbies of the rich. Some groups were known as Kufr Kachehris — mock courts.
Urdu poetry gives a special place to Holi's colourful ceremonies. The greatest work on Holi has been compiled during the 17th and 18th centuries in Persian and Urdu.
Quli Qutab Shah, a renowned south Indian poet, wrote about Holi in his inimitable Hyderabadi Urdu, describing the festival of colours in the Braj and Bundelkhand regions in India's north.
Fayeez Dehlvi of Shahjahanabad wrote pleasing verse on the celebrations.
Wajid Sehri, a Delhi poet, mentions how Akbar Mahabali used to have many colourful ponds to enjoy a Holi dip.
Equally enjoyable are the poems of Mir Taqi Mir who joined the court of Nawab Asaf-ud-Daulah and wrote in praise of Jashne-e-Holi. Poets like Khwaja Haider Ali Aatish, Insha and Taban have written great Holi songs.
Source: https://www.firstpost.com/world/eid-e-gulabi-did-you-know-holi-has-a-rich-muslim-history-too-2139413.html