Why a Barelwi faction is promoting profound sectarianism in the community?
Click Tv
By Ghulam Rasool Dehlvi
06 April 2019
According to several national Urdu newspapers dated April 2, Maulana Asjad Raza Khan, son and successor of the late Mufti Akhtar Raza Khan Azhari Miyan, has been appointed as 'Qazi Al-Quzaat' (chief Islamic justice) of India. With a consensus of 67 Barelwi ulema and muftis (clerics and jurists),  this decision was taken at a recently concluded 16th Annual Shariah conclave called "Fiqhi Seminar" in which every year Barelwi theologians present their jurisprudential perspectives on the current issues and then sign a written declaration affirming their collective opinion or consensus called 'Ijma'a'. Thus, Maulana Asjad Raza Khan, who was earlier the Shahr Qazi, is now literally the Grand Mufti of India for the Barelwi followers of Islam. The vice-president of Jamat Raza-e-Mustafa, the chief organisation affiliated to Dargah Aala Hazrat, hailed this decision and said:
"A unanimous decision passed by 67 scholars has rightfully appointed Mufti Asjad Raza as the 'Qadi Al-Qudaat' (Chief Islamic Justice) of India. Sunni Barelvi ulema will now have to consult Musti Asjad Raza in important Sharia matters."
In India, the title of "Grand Mufti" or Mufti-e-Azam is conferred upon the one who holds the supreme authority to issue Fatwas or authoritative legal opinions on Islamic matters. But a deeper reflection on this fresh appoint of the Grand Mufti unveils an inter-sect rivalry within the circle of Barelwi clergy. As a matter of fact, for quite some time, the Sunni-Shafa'ee clergy in South India who subscribe to the Barelwi doctrines have developed sharp disagreements in several theoretical issues with the Hanafi Barelwis in the Northern part. And this slugfest has resulted into appointment of two 'Grand Muftis' for Barelwi Muslims in the same country at the same time.
Just a month ago, South Indian Barelwi cleric and Sunni leader, Shaikh Abu Bakr Musliyar (Kanthapuram AP Abooabcker) was appointed as the Grand Mufti of India at the Ghareeb Nawaz Peace Conference held at Ramlila Maidan, New Delhi. This appointment took place in an anti-terror Islamic conference organized under the banner of the leading Barelwi organizations in the country including All India Tanzeem Ulama-e-Islam, as reported in detail in New Age Islam. (See: www.newageislam.com/radical-islamism-and-jihad/all-india-tanzeem-ulama-e-islam-issues-a-fresh-fatwa-on-terrorism-emanating-from-pakistan/d/117858)
As per the press release issued by Markazus Saqafa Sunniyya, the largest Sunni institution founded by Shaikh Abu Bakr Musliyar in Kerala, the lofty title of 'Mufti-e-Azam' or Grand Mufti was conferred on Musliyar by none other than Mualna Mannan Raza Khan, grandson of A'ala Hazrat with a huge support from several Barelwi leaders including Syed Ameen Miyan Barkati, founder of Aligarh Al Barakath Institute, Syed Babar Ashraf, founder-president of Sufi Voice of India, Mufti Ashfaq Hussain Qadri, national president of All India Tanzim Ulama-e-Islam, among others.
This is precisely how the fresh appointment of Asjad Raza as the Grand Mufti of India reeks of an increasing internal conflict and rivalry within the Barelwi clerical leadership. Besides the jurisprudential differences between the Sunni-Hanafi Barelwis of North India with the South Indian majority of Shafa'ee Sunnis, the two factions of Ahl-e-Sunnat in India who subscribe to the positions of A'ala Hazrat in belief and rituals are now at the loggerheads. Social media trolls deriding the opposed Grand Mufti as 'fake Mufti' are on the rise in the Barelwi Facebook and WhatsApp groups.
Instead of working to strengthen inter-community peace and pluralism in the country along with development works in education and humanitarian sectors, the opposing Barelwi faction is promoting the profound sectarianism in the community. Worse, by appointing the fresh Grand Mufti in India, that too a semi-literate cleric who has not even properly studied the Alim-Fazil curriculum or any other course in an educational institution, the group has caused an affront.
Now let us take a look at the nature and subjectivity of the Fatwas and religious edicts recently passed by the Barelwi ulema and muftis at large. From the fatwa against Salman Rushdi, Tasleema Nasreen, Majid Majidi, AR Rahman, APJ Abdul Kalam to the violent announcements threatening to behead Taslima Nasrin and or to boycott and ban Tahir-ul-Qadri, the retrogressive Barelwi clerics have also created an outrage in India.
The first Indian cleric who announced a reward of Rs 5 lakh on Bangladeshi writer Tasleema Nasreen's head was the Barelwi leader Maulana Tauqeer Raza Khan, also a politician. Tauqeer Raza demanded that the government of India ban Nasreen's entry into the country. Otherwise, anyone who beheads her will be given a reward of Rs five. The notorious fatwa against Muslim women's entry in the sanctum sanctorum of the Sufi shrines has also come from a Barelwi cleric appointed as Imam in Haji Ali Dargah, the Mumbai-based Mufti Mahmood Akhtar Qadri.  He also issued fatwa against AR Rahman for composing music for the Iranian filmmaker Majid Majidi's ambitious biopic, Muhammad: The Messenger of God.
More to the point, most Barelwi ulema are culture-unfriendly and abhor even the Islamic cultural practices such as the first Islamic month's commemoration of Muharram known as Tazia, celebration of Sufi Basant at Hazrat Nizamuddin Aulia or the Sufi Holi (Eid-e-Gulabi) at the Dargah of Haji Waris Ali Shah in Uttar Pradesh and Diwali which is celebrated at a few Dargahs, Sufi music known as Sim'aand Sufi whirling in imitation of the dervishes called Raqs. All this goes challenged and refuted every year by scores of Barelwi ulema and muftis and event their students and fatwa trainees enrolled in the madrasas. As a result today, even the common Indian Muslims who once prided themselves in their strong cultural bonds, now influenced by the Barelwi ulema who they of as their Pirs and 'spiritual guides', have given up many such cultural practices at the Sufi Dargahs. There are documented Fatwas issued by the Barelwi theologians against the participation of Indian Muslims in the Hindu festivals like Diwali or Holi. Aggressive social media campaigns are underfoot to promote these exclusivist and extremist Barelwi Fatwas which declare those who participate in the non-Muslim festivals beyond the pale of Islam.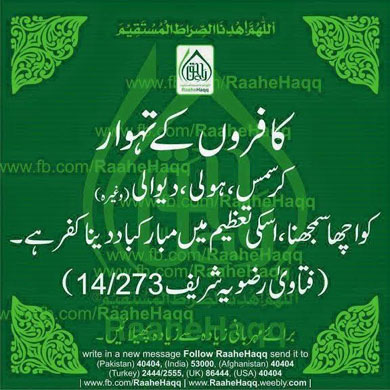 Most deplorably for the Sunni-Sufi Muslims in Kerala, particularly the followers of Shaikh Abu Bakr Musliyar and the great numbers of students and alumni of Markazus Saqafa Sunniyya, the Barelwi Muftis did not spare even the former President of India APJ Abdul Kalam and issued a fatwa against him. Kalam envisioned and initiated an inter-cultural movement through the establishment of "Foundation for Unity of Religions and Enlightenment of Citizenship" (FUREC). It had clearly stated its objective which was the promotion of inter-faith and social harmony in India. FUREC had members from across the religions and cultures in India. Syed Muhammad Jilani Ashraf, head of a Sufi shrine in Kichhauchha Sharif (Uttar Pradesh) was one of the members. A strongly-worded and detailed Fatwa signed by hundreds of Barelwi clerics was issued declaring the FUREC an 'anti-Islam' movement and all its Muslim associates including APJ Abdul Kalam and Syed Jilani Ashraf 'beyond the pale of Islam'. The full documented fatwa was reproduced by an Urdu monthly edited by Maulana Khushtar Noorani, Millat ka Tarajman Jaam-e-Noor, Delhi.
Apparently, owing to many such aggressive stances underpinned by the north Indian Barelwis, the South Indian Sunni-Sufi Muslims, are distancing themselves from their former association with or allegiance to the Barelwi Markaz (centre) located in Saudagran, Bareilly Sharif.
Source: http://www.newageislam.com/islam-and-politics/new-age-islam-special-correspondent/appointment-of-two-'grand-muftis'-in-india-at-the-same-time-reeks-of-an-internal-conflict-and-rivalry-within-the-indian-muslim-to-barelwi-leadership/d/118247